T & J Lawn Service, Inc. - Company History:

In 1985 we, Tom & John Clime, started a small lawn care company by mowing lawns in our neighborhood. From these modest beginnings our company steadily grew. By providing quality, personalized service and meeting individual needs, we then developed a reputation for the highest standard in the industry.
As our customer's needs grew so did T & J's services. Today T & J Lawn Service, Inc. is a full service residential and commercial landscape contractor offering quality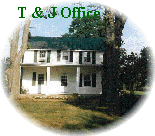 design, installation and maintenance through out Maryland, Virginia and D.C.
Each of out three divisions, Maintenance, Landscape Installation and Ornamental, offer trained personnel who provide expert care and advice with the same individualized service that has made T & J so special over the years.
As a full service company T & J combines both service and resources to provide for every landscape desired. By taking the quality of our residential services and combing them with the efficiency of our commercial markets, T & J has become one of the most creative and cost effective landscape contractors for both homes and businesses.

Return to Home

Commercial Services

Residential Services